Trina Health Comes to North Sunflower Medical Center
by Sam Miller, CEO
We know that to survive as a rural hospital today, we have to do two things: find new and innovative ways to provide the best care anywhere; and treat the health problems closest to the people around you.
Diabetes is a debilitating disease that dramatically impacts families all across the country. Its effects can be found disproportionately here in the Mississippi Delta. Studies have shown that almost 35% of Mississippians suffer from diabetes – among the highest in the country. Diabetes disproportionately affects children and African Americans. It leads to blindness, painful neuropathy in feet and hands and frequently amputations of extremities.
Not only is diabetes an extremely painful and debilitating disease, but it is also very expensive to treat. Nationally, Diabetes treatment costs $174 billion every year. In fact, one out of ten health care dollars is used to treat patients with complications from diabetes.
We knew that for us to remain an effective, vibrant community hospital, we had to take positive steps to help people throughout Sunflower County suffering from diabetes. That's why we were so excited to begin a strong partnership with Trina Health.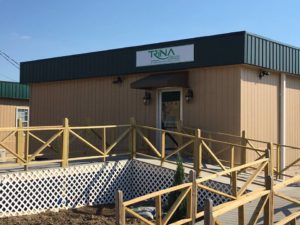 The talented professionals at Trina Health have developed innovative treatment that is changing the lives of diabetics all across the country. When we announced the partnership, I was honored to tell the inspiring story of how G. Ford Gilbert started Trina Health after his daughter developed the disease at the age of 5. Their treatment is life altering technology that we are proud to offer.
They say at Trina Health, "We can't wait to see what you do with your life." We feel the same way. We want to help people with diabetes build a new, healthy life right here in Ruleville. We can't wait to see how each of their new lives touches the rest of us, right here in our community.
For more information call (662) 756-4000 or visit www.trinahealth.com